Conferencing

Instant Scheduler for Microsoft® Outlook®
Verizon Business offers leaders an advanced scheduling tool compatible with Microsoft Outlook - Instant Scheduler.

Instant Scheduler is a downloadable plug in that provides leaders shortcuts when scheduling and starting Instant Meeting audio and net conferences.

Instant Scheduler allows leaders to:
Start and schedule audio and/or net conferences in Outlook
Send meeting invitations that include conference coordinates as well as click-to-join links
Set preferences to launch the Web Moderator online conference management tool automatically when starting an Instant Meeting conference
All participants can:
Join meetings with a click of a button (for audio conference dial-back)
Join Instant, Customized, or Advanced Net conferences from a URL
The download will create a new button in your Outlook toolbar: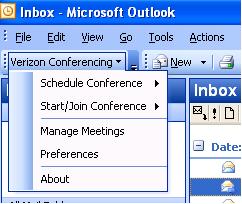 Download the software now!