Conferencing

Instant Scheduler for IBM Lotus Notes
Verizon Business offers leaders a free advanced scheduling tool compatible with IBM Lotus Notes version 8.5 and 8.0.1. Instant Scheduler allows Lotus Notes users to auto-populate meeting invitations with their Instant Meeting audio and net conference coordinates.

Meeting invitations include:
Audio dial-in information and/or net conference URL
"Click-to-join" link where leaders and participants can enter a telephone number enabling the audio bridge to dial them back
Meeting details containing a complete list of dial-in numbers associated with the leader's audio subscription
Instant Scheduler also allows leaders to:
Import audio and net conference subscription details into the application via user's Manage My Meetings login credentials
Set preferences to automatically launch Web Moderator, a web-based application providing conference leaders visibility into their Instant Meeting audio conference
The download will create a new toolbar button within Lotus Notes: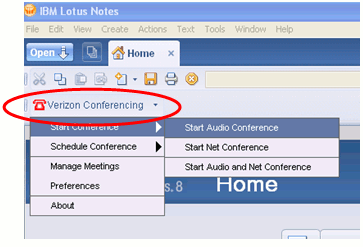 Download the software now.